Welcome to Elite Soccer School!
Welcome to Elite Soccer & Sports
Fantastic Birthday Parties
just click on the Birthday Parties tab for more information........
** NEW HAVE YOUR FOOTBALL PARTY AT GOALS SOCCER CENTRES WOODLEY ,FOOD PROVIDED,GREAT FACILITIES,GREAT PARTIES!!
CONTACT 07769 701209 OR EMAIL glyn.dalfsen@hotmail.com
We now supply Trophies and Awards with great discounts avalible please visit the link below !!!
LIKE us on FaceBook: https://www.facebook.com/elite.soccersports
Follow us on Twitter: https://www.twitter.com/Elite_Soccer18
Coaching Jobs now available please contact us for more details !
NEW CLUB SHOP ORDER @ : www.sportworksuk.co.uk/home/club-shops/elite-soccer-sports.html
We Provide :
PPA COVER PE LESSONS
AFTER SCHOOL CLUBS LUNCH TIME CLUBS
IN-SCHOOL COACHING HOLIDAY COURSES
BIRTHDAY PARTIES COACHING COURSES
TEACHER TRAINING ELITE MINI TOTS
TEAM COACHING
ELITE SOCCER COACHES ALSO WORK IN A NUMBER OF SCHOOL AS PE STAFF
NEW DEVELOPMENT CENTRE!!!
Elite Soccer School provides after school clubs, school holiday courses, birthday parties and much, much more for boys and girls from the age of 5 - 14, in and around Reading and Berkshire, with our emphasis on fun, team play and sportsmanship whilst learning the latest skills and techniques, and improving overall understanding of the game in a fun, safe, controlled environment.
With over 20 years coaching experience you can be confident that your child will be safe whilst having fun and learning on all our courses. We also have links with many local clubs as Glyn is a co-ordinator for the Berkshire Youth Development League.
We aslo coach a number of other sports which include Basketball,Hockey,Tag rugby,Tennis,Cricket,Rounders,Handball,Volleyball,Dodge ball, Street dance & Multi-sports.
P.E LESSONS & PPA COVER
we have the ability to offer a comprehensive solution to PPA cover and PE Teaching. With education autorities constantly changing and demanding more ' non-contact time' between teaching staff and children, we can offer the support required to help your school in this area. Not only we ensure that physical education is professionally delivered to the children, but will also, potentially, be more beneficial to your schools budget and goes down well with Ofsted reports.
With the (P.P.A) Planning, Preparation and Assessment coming in to effect in 2005, which encouraged schools to invite Elite Soccer & Sports to work closley with them, to meet the curriculum demands, but also introduce the children to lots of new and exciting sports such as dodge ball,ultimate frisbee and lots more which may not be delivered in mainstream school PE. This offers the children a much greater choice and opportunity to develop their own physical and mental abilities. Elite Soccer & Sports has a great reputation of being highly regarded as one of the leading companies in this field.
All Elite Soccer & Sports follow a well designed proven lesson plans in line with the current curriculum. all coaches are all CRB checked,have Safeguarding child protection training,and first aid qualifications We also have a behaviour management procedure and risk assesment in place,we work closely with the schools to ensure that everything is in place before undertaking any coaching session to ensure we provide a top quality service every time.
Elite Soccer & Sports emphasis is to instil life skills into the children via the professional delivery of sports and games with a large emphasis on behaviour, attitudes, teamwork, respect, confidence and most of all fun. Through sport children develop self confidence which transfers into the classroom and their on-going academic success.
After School Clubs
Elite Soccer & Sports are able to deliver a wide range of sports delivered as "breakfast, lunch and after school" clubs.
These are designed to run within the school term dates and after leasing carfully with each school so we can establish which sport/s would be benefical to the children. These are both multi-sports and single sports courses. such as a 10 week football course etc...
Each course is run to enhance children's abilities and knowledge in a wide range of sports. The multi-sport courses consist of coaching a different sport each week which will include a range of Athletics, Basketball, Hockey, Cricket, Football, Rounder's, Tennis, Circuits, Dodgeball and much more with all sessions ending in fun games and mini matches.
All sessions are designed to improve children's overall skills, coordination, balance, space awareness, teamwork and understanding of a number of sports whilst having fun and keeping fit at the same time. At the end of the course, there will be presentations with medals, trophies and prizes to be won.
All our coaches are licensed and fully qualified, C.R.B. checked and attend frequent coach training days to ensure that all children receive top quality coaching on all our courses. All sessions are designed to be fun as well as educational because, we at Elite Soccer & Sports, believe that learning should be fun!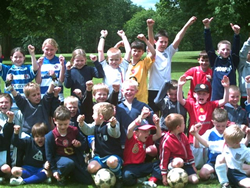 Please take a moment to click on About Glyn and view my coaching qualifications and experience, then enjoy the rest of the site. If you do not find the information you are looking for please do not hesitate to contact us. Thanks, Glyn @ Elite Soccer.All our coaches are licenced U.E.F.A. qualified, D.B.S. checked and attend frequent coaches training days to ensure that all children receive top quality coaching on all our courses. All sessions are designed to be fun as well as educational because we at Elite Soccer believe that learning should be fun!

For children aged 4-12, design a football shirt competition. Entries will be judged by Elite Soccer & Sports, and the winner will be awarded free entry to a Holiday Course of their choice (upto £60). Entries should be submitted to us via email or post.
elitesoccersports@outlook.com
46 Fitzroy Crescent



WoodleyReading



Berkshire



RG5 4EU
Good Luck!!

Siblings also half price! ( IF BOOKED ON FOR A FULL WEEK !! )